"20 for 20" Innovation Will Spur a Roarin' 20s Act II
Innovative Portfolios Editor
2020 was not a very good-news year, for either clients or advisors, Innovative Portfolios Chief Investment Officer Dave Gilreath concedes. On the other hand, he reminds us, the stock market is a forward-looking animal, and clues indicate rosier times ahead. In fact, there is a very real potential for the Dow Jones Industrial Average to hit 50,000 by the year 2027, Gilreath states. That's because the decade of the 2020s, like the decade of the 1920s, will be marked by both disruption and innovation. Innovative Portfolios hardly stands alone in its optimism:

"Confidence in the recovery is growing rapidly," writes Matt Egan of CNN Business, quoting a number of economists:
Goldman Sachs—"The US economy will grow at the fastest clip in more than three decades."
Mark Zandi of Moody's Analytics—The U.S. economy will return to full employment by next spring.
Jefferies—"Explosive income growth is likely to propel US GDP 6.4% higher this year and nearly 5% next year."
J.P. Morgan analysts—"The current trajectory of COVID-19 cases and vaccinations implies that the global pandemic could be as good as over in just a couple of months."

A look in the rearview window shows that, just prior to the decade of the 1920s, 50 million people had died of Spanish Flu. There was a global recession, and Prohibition had crimped the Yuletide spirit. War veterans were being slowly integrated into the employment rolls. Despite all these negative factors, out of a combination of pent-up demand and human innovation, there ensued a decade in which the stock market rose eightfold.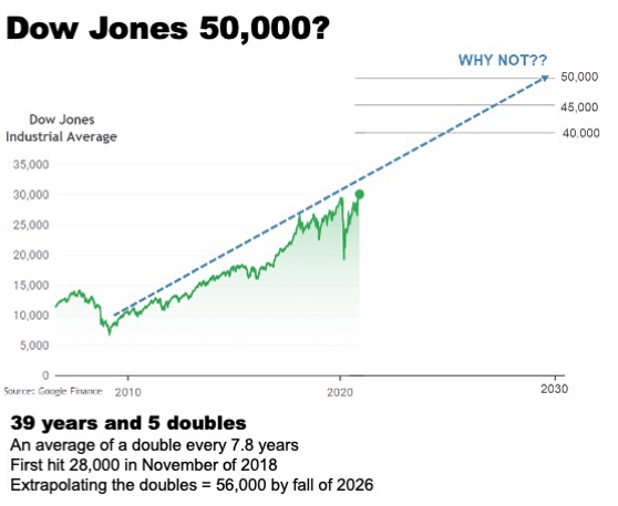 Today, one hundred years later, Gilreath explains, we find ourselves once again at the brink of a period of innovation. With interest rates low and pent-up demand following the pandemic, plus the efficiency and adaptability of U.S. companies, our economy is poised to break barriers, building on and expanding developments in:
blockchain technology
robotics
human genome research
artificial intelligence
nuclear power

In fact, the tsunami of innovation has already begun. "Shared mobility, advanced plastic recycling, and protein production are going to be key to future prosperity," writes Mike Scott in Forbes. "From robotic surgery to self-driving cars, 5G will be critical to advances in the internet of things."
Lux Research has compiled an even more specific list of 20 innovation areas with the combined potential to create a second "roarin'" decade, transforming our lives—and the economy, including:
bioinformatics and biofertilizers
commercial vehicle automation
hydrogen fuel cells
omics technologies

Rose-colored glasses? No, maintains Gilreath—history.
Fact is, the market has doubled five times over the past 39 years, with one double every seven or eight years. In large part, this growth was due to human innovation. With so much innovation already happening and so much on the country's drawing board, isn't it possible, even likely, he asks, for a Roarin' 20s to happen again?